Viasat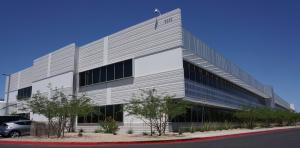 116,000 square feet
4,240 cubic yards
Project Scope: Footings, Slab on Grade, Tilt Up, Sitework
Tempe, AZ
PCG Construction
When planning a new office and operations building in Tempe, the progressive satellite technology company seized the opportunity to leverage the project, designing the space for a new way of working. The concept integrates three distinct tilt up volumes based on specific programmatic use.
A two-story high performance office component
A lab and operations facility
A common shared space that fuses the programs together
The project will aid the owner in the design and manufacture of advanced microwave communication and radar products, radio frequency systems, and cybersecurity.
The project is organized around a center slot courtyard that brings daylight into the interior, creating a direct connection to the outdoors. The architectural character is contextually responsive through the use of striated tilt up concrete panels.
The tilt up concrete panels successfully complement these other systems, showing flexibility and aesthetic quality and presenting a modern, contemporary vision in contrast to the status-quo industrial buildings in the vicinity.
Horizontal shading louvers protect western exposure while providing spectacular views to the exterior. Each building mass has a distinct architectural character blended with native desert landscaping to heighten the connection to the desert context. Uncommon in typical tilt up design, the building incorporates several cantilevers, showcasing the diversity of its application.
Major additions to the project plan, undertaken after construction began, included a parking structure, 35,000 sf shell expansion space, payload assembly area, and electrical, gas, and nitrogen piping.
Start Date – October 2014
Completion Date – July 2016
Project Wall Area – 58,600 SF
Project Floor Area – 142,650 SF
Project Footprint – 222,500 SF
Tallest Panel – 36'4"
Widest Panel – 30'6"
Largest Panel – 1,017 SF
Heaviest Panel – 111,400 lbs.
Tallest Cantilever Panel - 13'4"
Longest Spandrel Panel – 30'6"