Luhrs City Center Marriott
Luhrs City Center Marriott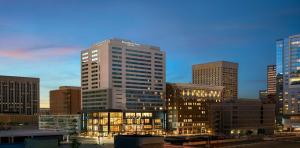 269,273 square feet
13,038 cubic yards
Project Scope: Footings, Slab on Grade, Structural, Sitework
Phoenix, AZ
Hensel Phelps
The Luhr's City Center Marriott is a 19-story cast in place concrete frame structure located in the heart of Downtown Phoenix's sports and entertainment district. The 320-room hotel is home to both a Courtyard by Marriott and a Residence Inn by Marriott. Since the hotel is co-branded, one of the first things the Architects needed to consider was whether to put the brands side by side in the tower or stack them on top of one another. After careful consideration, it was decided to stack the brand by using a unique structural column grid up through the tower. By stacking the brands, it allowed one elevator core for both brands and eliminated crossover of guests on the same floor as would happen in a side by side plan.
This decision also influenced the exterior appearance of the building. The lower four floors contain all the guest services, such as guest registration, food and beverage, meeting spaces, indoor pool, and back-of-house functions. The next five floors are the Courtyards rooms and the remainder of the floors are Residence Inn rooms.
This project was constructed on a 6' deep matt foundation. The concrete structure consists of 2'0" square cast in place columns, CIP shear walls, CIP beams, and a cast in place structural deck of various thicknesses ranging from 7" to 12".
Due to the postage stamp size of the property, there was no laydown area on site. We had to rent a lot a few blocks away from the project for the assembly and storage of forms and equipment. The forms and tables were then transported along Central Avenue to the jobsite for utilization.