HomeGoods Distribution Facility
HomeGoods Distribution Facility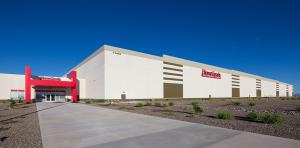 900,000 square feet Building
1,620,000 square feet Exterior Concrete Paving
78,508 cubic yards
Project Scope: Footings, Slab on Grade, Tilt, Sitework
Tucson, AZ
Layton Construction
The 109-acre site features a three-in-one 900,000 SF concrete tilt-up distribution facility.
The western portion of the building consists of three shipping wings with a total of 216 truck dock positions for outbound furniture.
The center section, referred to as the low-bay, is used for inbound furniture, has 77 docks, and maintains a clear height of 32'.
The eastern portion of the building, referred to as the high-bay, maintains 47' clear height. The high-bay contains the narrow-aisle racking with the super flat floor for inventory.
The building also houses an office area of approximately 32,000 SF.
The building took over 45,000 cubic yards of concrete and more than 12,000 tons of aggregate material.
The project also included 1,620,000 SF of PCCP (Portland Cement Concrete Paving) which added 30,000 cubic yards and 18,000 tons of aggregate to the material supplied to the project.
The concrete supplied by CalPortland and placed by Hardrock Concrete Placement Co., Inc. was required to meet minimum concrete strength of 4000 psi and the following FF and FL tolerances:
Office area – 35/25 mlv 27/18
Low Bay Warehouse Area – 50/35 mlv 35/27
High Bay Defined Traffic Area – F-min L 90 and F-min T100
High Bay Random Traffic FF 50 FL 35 with mlv 35/27
Polished concrete area 50/35 with mlv 35/27
CalPortland utilized three plants at times to provide concrete at the rate the project demanded. The consistency was of extreme importance and critical to the outcome of the finished product. The mix was managed and designed by CalPortland to meet HomeGoods specification and satisfy the contractor. The basis for standard testing was ASTM E1155-96(2001) and the results for MLV FF and FL were in the range for Superflat tolerances. The concrete used met the project standards for NRMCA and ASTM.
The outcome was a durable and sustainable concrete structure that will provide many years of uninterrupted service to HomeGoods.