ASU - Arizona Center for Law and Society
ASU - Arizona Center for Law and Society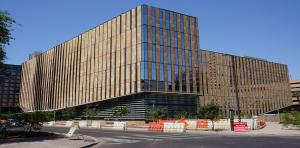 399,155 square feet
18,552 cubic yards
Project Scope: Footings, Slab on Grade, Structural
Phoenix, Arizona
DPR Construction
The Arizona State University, Beus Center for Law and Society (BCLS) is the state of the art new home to the prestigious Sandra Day O'Conner College of Law. Part of Arizona State University's Downtown Phoenix Campus, the center is nestled in the legal, political, and economic heart of Phoenix. The University sought to use this location to encourage vibrant connections with the surrounding community by creating shared facilities such as a café, library, public plaza, and the not for profit ASU Alumni Law Group, one of the institutions dedicated to reinforcing the role of law in society.
ASU wanted to construct a high-performance building that met the demands of a changing law school program while also increasing engagement between the law school and wider community. With an ambitious fast-track schedule, and a firmly fixed budget established by the University, the team adopted a highly integrated approach to design to ensure the success of the project.
Energy conservation is an integral part of the design. The self-shading, saw-toothed configuration of the main building façade is comprised of Arizona sandstone with aluminum and glass windows. The interiors are designed to use natural daylight while being supplemented by efficient LED lighting with daylight dimming and occupancy controls.
The air conditioning of the building will set a new standard in Arizona as heat recovery, demand controlled ventilation, chilled beams, and airfloor systems are utilized. AirFloor is an innovative alternative to HVAC system installation that eliminates ductwork and drop ceilings. It provides radiant and forced-air heating/cooling through a network of steel forms and registers imbedded in the concrete floor.
Targeting LEED Gold
Sustainability Highlights
The center is expected to use 37% less energy than a similar standard building
Cement contained 50% recycled materials
90% recycled structural steel where possible
Daylight, LED lighting, and occupancy sensors will reduce power density 10-15% below the ASHRAE allowance
Environmentally preferable materials were used throughout
Over 500 low-energy active chilled beams keep the building office environments feeling fresh and comfortable
Configuration of the main building façade is designed to change in response to solar orientation, window size, and programmatic requirements
Indoor air quality monitoring for a healthier environment
Desert adaptive plants are utilized in the building landscape
Due to the complexity of the building process, the BCLS project team used Lean methodology and building information modeling (BIM) to eliminate unknown variables while successfully meeting cost, schedule, and design quality goals.