Skywater Apartment Homes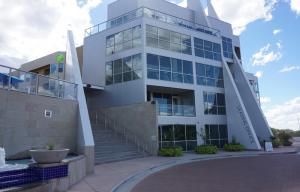 605,000 square feet
14,966 cubic yards
Project Scope: Footings, Slab on Grade, Structural
Tempe, AZ
Summit dck
The five-story apartment complex is built on 5.72 acres located across from The Tempe Center for The Arts and Tempe Town Lake on the south side of Rio Salado Parkway just east of Hardy Drive. The 605,000 GSF mixed-use development is a 328-unit apartment community atop a ground level parking garage and includes retail space, bike shop, business center, coffee shop, and leasing office along the north frontage. Lennar is the developer. The apartments consist of a mixture of studio, one bedroom, two bedroom, and three bedroom units as well as fifth floor lofts, and live/work units along 1st Avenue. Other feature include a media/theatre room, two swimming pools, a two-level fitness center, and fifth floor clubhouse with a view patio overlooking the Tempe Town Lake.
Architectural elements include a large fountain at the front, and 90-foot tall steel panel "sails" with LED color change lighting for a nautical look that are visible from the freeway across the lake. The building will feature a combination of full height storefront, residential windows, metal cladding, glass and ornamental rails, and stucco.
Hardrock's scope of work includes continuous and spread footings, elevator pit, CIP columns, stem walls, CIP structural podium deck, interior slab on grade over abc and vapor barrier, concrete topping over foam on podium deck and at pool area, slab on metal deck at bridges, stair pan fill, CIP stairs, and reinforcing.